---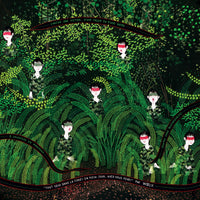 Sale
Snowball fights, social trouble, bombs. It's difficult to summarize here. This album/book is heavy and important.
Songs sung in French, lyrics translated in the book into Arabic, Basque, Korean, Danish, English, Spanish, Hebrew, Japanese, Mandarin, Norwegian, Russian, Serbian, Slovene, and Urdu.

This CD version is sort of a summarized version of the full 60 page book+LP.  The booklet contains a selection of the art, but not all of it.
13 songs / 40:52

(released as KLP172 by K, 2007)